For some reason I haven't been able to put my finger on until now, this guy bothers me.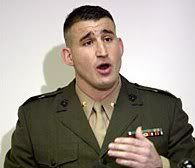 For the uninitiated, he's Major Michael Mori, lawyer for Australian Guantanamo Bay detainee and former Taliban combatant David Hicks, and he's mounting an incredibly successful defence of Hicks in the court of public opinion.
Mori's "edge", his "positioning" I guess, is that David Hicks is a decent guy, an idealistic but insanely misguided kid who just got mixed up with the wrong crowd. In this campaign, he's been aided by the
GetUp.org.au
, who have been running ads featuring photos of Hicks as a kid.
My problem is that, for all it's persuasiveness, this is a terrible - and ultimately dangerous - argument.
The real reason we all should be concerned about Hicks' predicament is that it represents an abrogation of years of basic common law rights - prohibitions against retrospective legislation, detention without charge and a whole bunch of other stuff that I can't really get into here.
If we decide that the reason Hicks deserves those protections is because he's a good Aussie bloke, it tends to suggest that people who aren't good Aussie blokes don't deserve them. In effect, it undermines the very reason those protections were put in place - to ensure the law was applied equally to all and that guilt wasn't predetermined.
What's the relevance of all of this to advertising? Probably not a lot if you're flogging chocolate bars or broadband packages.
But if you're writing ads for any sort of social, environmental or political issue, a similar dilemma is likely to rear its head, because the most intellectually honest argument isn't necessarily the most persuasive one.
So you're left with a choice: do you serve the client's immediate best interest, and in the process add your little clod of mud to the already debased and murky waters of public discourse? Or do you serve the broader public interest and attempt to keep the debate clear by eschewing fallacy and misrepresentation?
Of course, it's your job to do the former. But, even when, as in the Hicks case, it's in a good cause, I'm not sure that's a good thing.